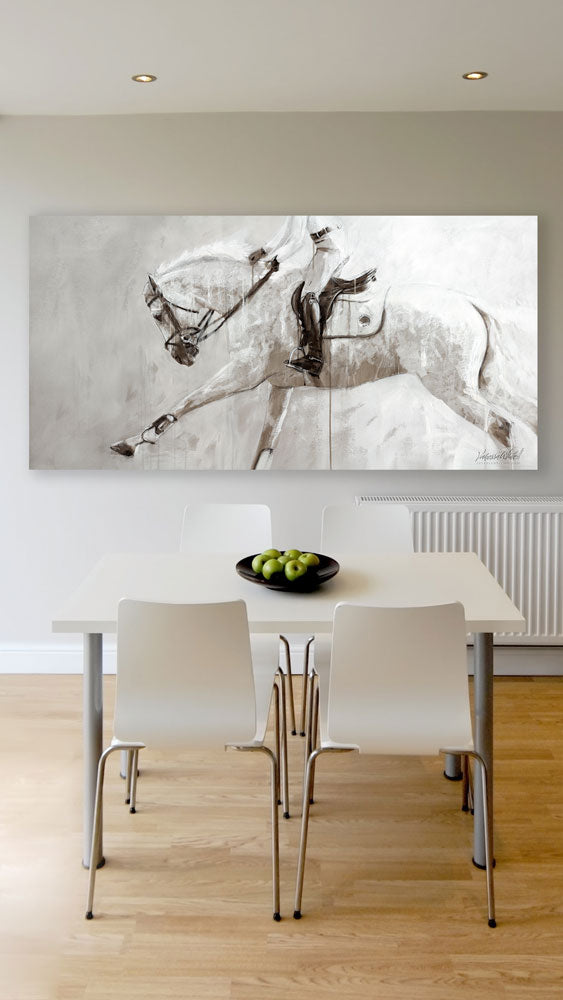 Imagine your horse captured in contemporary abstract style, in a large modern horse painting that's designed specifically for you
As riders these days, most of us have lots of photos, but photos don't always make the best large wall art.

Photos usually have too much detail and leave little to the imagination. Paintings can evoke more feeling and be more expressive. A custom horse painting can be designed to convey a certain idea or feeling and help create the desired atmosphere in your space. 
The process starts with you
We clarify why you want a painting. Is it to remember a special horse? A special moment? Is it a gift?

We look through your photos. What do you like, what don't you like? What would you like your painting to say? Where will the painting hang? What is the atmosphere and feeling you want for your space?

My style would be described as abstract realism. Although the paintings are based on your photographic reference I don't simply copy from a photo - my process begins with simplifying the selected image and creating a focus on the significant part, then through redrawing and painting I develop the image based on our discussions.
Through intentional design and composition, atmospheric tonal range and planned color palettes combined with archival quality materials, imaginative paint techniques and professional finish options we create that custom painting that we dream up together.
Pricing
Sizes range from
30" x 30" / 76cm x 76cm
to 72" x 72" / 182cm x 182cm
(or equivalent size in other proportions)
Prices range from $3,000 to $9,000
For more information please contact me. I can send you an information package that explains the full process in detail.
★★★★★

I enjoyed the whole process. I knew I would love the final painting from the get go! Thank you!!

S. Kearns
★★★★★

I will treasure this painting of my heart horse forever!! You do such beautiful work!

M. Tabour
★★★★★

You captured him perfectly and the style totally fits mine! Love it!!

D. Thompson
Give the gift of art
Much of my work is given as a gift. How hard is it to give someone something that they will treasure and keep for a lifetime? A painting can be created as a gift or you can simply give a custom painting gift certificate.
Read more
See more horse paintings
go to the equine art gallery